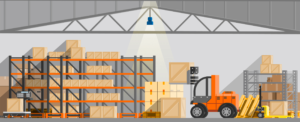 For most 3PLs, their services involve managing intricate supply chains, inventory control, and multi-channel order completion through a wide range of warehouses, return management sites, distribution centers, and transportation systems, all in the service of major retail companies and online merchants with cost-efficient B2B, DTC, and hybrid operations.
Challenges of multi-location inventory management
Multi-location inventory management refers to the synchronization of inventory management across several different sites, which a company may choose to do for various reasons, such as bringing products closer to customers, increasing storage capacity, managing overstocking, or temporarily storing goods (known as transit warehouses). While having multiple warehouses is advantageous for many businesses, it also has certain drawbacks.
It will be some drawbacks when it relates to multiple facilities:
Communication: having various warehouses (with different processes and equipment in each one) calls for seamless communication and coordination between operators. This prevents the warehouse from sending a duplicated order to a customer.
Inventory control: when dealing with large numbers of goods, ensuring that all products are under control is, in itself, rather complex. The situation is further complicated when the inventory of products is spread across several warehouses.
Bottlenecks: when you have various facilities with their operations, the risk of blockages is much higher. Companies are always dedicated to avoiding the delayed distribution of orders at all costs because it will lead to a high price tag.
Companies with several warehouses will use a warehouse management system to control the processes and operations in every fulfillment center to manage all these issues effectively.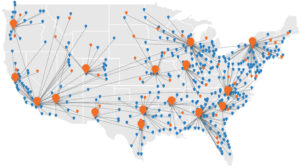 Advantages of multi-location inventory management
The good news is that the need for more warehouses due to the company's growth indicates that the business is doing well and can be even better with the help of multi-location inventory management software. This software can equip the organization with a smooth supply chain and provide them with multiple advantages:
Speedier deliveries: Having multiple warehouses close to the delivery points facilitates a quicker supply of goods. In e-commerce, this is taken to the extreme with solutions such as micro-fulfillment centers; these small warehouses located in or near the same city as the customer make it possible to deliver orders in a matter of hours.
Lower costs: Managing goods in various facilities can streamline product distribution and reduce costs, making it a compelling reason for e-commerce retailers to open warehouses in cities to expedite the distribution of orders. A study from consulting firm McKinsey reveals that having a facility in a city can reduce companies' distribution costs by 25%.
Flexible organization of inventory: A business with multiple warehouses can organize its stock based on criteria tailored to meet customer demand. For instance, if a company sells a popular product in a particular region, it would be most efficient for the warehouse closest to that area to stock those items to ensure that they are readily available when needed.
Improve customer satisfaction: customers are most interested in faster delivery at a lower cost. If the company delivers orders quickly and at a lower price, customers will be satisfied, leading to increased customer loyalty and more fabulous future sales.
Reduced carbon footprint: A multi-location inventory management setup often minimizes the distance traveled to deliver orders, positively affecting the environment by decreasing polluting gas emissions. The McKinsey study mentioned above showed that when a facility is located close to customers, companies travel 45% fewer miles to deliver orders, leading to a decrease in the number of hazardous gases emitted into the air.
A company can effectively organize its goods into separate warehouses by utilizing management software. Having full command over all items, the business can provide timely customer services and increase its efficiency and productivity through streamlined operations.

Do 3PLs Need Multiple Facilities? 
By overseeing multiple facilities as part of your 3PL network, you can maximize the efficiency and output of your fulfillment operations. This could include inventory, overstock, transfers, returns, or order processing, fulfilling growing e-commerce demands and achieving excellence.
As a 3PL provider, it will help to have multiple facilities:
Manage growing orders with greater ease.

Expand your storage and order-processing capacity.

Meet client SLAs by getting products as close to their destinations as possible.

Boost customer satisfaction by increasing your overall delivery speed.

Save money by optimizing product distribution and cutting logistics costs (ex., shipping).

Reduce your carbon footprint. 

Lower risk if one or more of your facilities is forced to close (ex., COVID-19).
Multi-Location Inventory Management Technology
Organizing inventory and product operations across more than one facility is what multi-location inventory management refers to. This includes tracking the inventory at each distribution and order-processing center with cloud fulfillment software and multi-warehouse management solutions.
By incorporating multi-location inventory management functionalities, your team will have the necessary tools to ensure effective communication, inventory control, and successful fulfillment between your facilities. With the right multi-warehousing technology in place, the results of your 3PL operations will be optimized and reach higher levels of success.
Grow stable, successful fulfillment networks by keeping multiple facilities in sync (ex. supporting consumers from receiving multiples of the same order from different warehouses).
Surpass challenging fulfillment standards like tight delivery windows and hassle-free returns.
Maintain strict logistics to ensure inventory levels are accurate and able to support demand (prevents overstock and shortages at one or more locations).
Enhance visibility and control over warehouse operations and cost to eliminate bottlenecks and address inefficiencies quickly.
Offer transparency over order processing, so your clients and customers can see where orders are in the fulfillment process. 
Optimize warehouse space utilization for your fulfillment network.
Multi-location inventory management software monitors the end-to-end processing of e-commerce orders for 3PLs while safeguarding the risks associated with multi-location warehousing operations.