It can be challenging to pack and ship heavy items. It would help if you considered weight and cost and the potential impact of heavy lifting and warehouse equipment. What are the steps you can take to minimize damage? How can you impress your customers while reducing costs?
This blog will explain how to successfully ship heavy items, including packaging materials and weight distribution.
Why is it essential to pack heavy items?
When packing heavy items for shipment, you need to take extra care. Heavy packages will be transported by forklifts or other warehouse equipment. They will experience compression through stacking and may shift during transit.
No matter how heavy your package is, it must arrive in perfect condition. Why? Because customer satisfaction is dependent on how they interact with you in the real world. If your package arrives damaged or missing, it will not be a pleasant experience. It is essential to consider how your shipment will arrive at their doorstep and to take precautions to prevent damage.
Essential things to remember before you pack heavy items
You should ensure suitable packaging materials to pack heavy items. The same supplies used to pack smaller items won't work if you ship bulkier items.
These heavy shipments require you to have the right tools and technology. You don't want to hurt your back lifting these heavy shipments, do you? 
Be aware of their freight rules when you ship a shipment to your courier company.
Durability is a crucial factor when choosing packaging materials to protect heavy items. Use durable materials to withstand rough handling and strong enough to protect your items. Materials that combine strength and aesthetics will impress your customers and save the items from damage. 
Consider how couriers will handle your package. Is it to be shipped or forwarded? Do you plan to stack it with other heavy objects? This will give you some insight into how to protect it.
Use a prominent sticker to indicate that the package is hefty. This will inform your courier that you must be more careful when moving the box, making injury and damage less likely.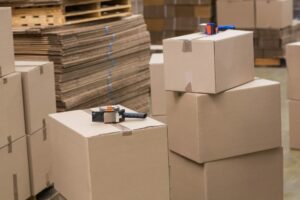 Tips on how to pack heavy items
Your customers are your lifeline, so delivering merchandise in top condition is your priority. Consider adding an extra layer to your heavy products when you pack them.
Here are some tips to ensure the merchandise arrives safely at your customer's door. 
We often load everything in one box when trying to reduce costs. This is especially true for heavy, oversized, or delicate items—Spread materials among all packages. There are many chances of dropping or manhandling a heavy package. Distribute the weight and keep each packet under control.
Find suitable packing materials

.
A single bubble wrap or bubble wrap layer will work for smaller items. For more oversized items, you'll need thicker packaging layers such as thermocol or cardboard. Masking tape is not recommended for heavy items as it can easily crack and break the package. This can cause damage to the product that you don't want to send to your customers.
It is important to have solid packaging

.
You can make your merchandise more durable by cushioning the boxes with quality packaging materials like thermocol, bubble wrap, or cardboard. It will be too flat if you use just paper. Packaging is about delivering merchandise in perfect condition. The item must remain stable throughout transit. The heavy item must be protected with adequate cushioning.
After completing your first package, you will need to place it in a larger box one inch wider than the original. Placing additional stuffing between the boxes would be best to avoid friction and damage. Please mention this on the box for fragile items and write "This Side Up" to ensure proper handling.
It would help if you placed larger attachments at the bottom of the container. The smaller one is at the top. This will balance the weight and decrease the likelihood of the item breaking.
 

Make sure you have enough space between boxes

.
All packaging materials should be able to fit in the boxes. Double-walled boxes are best for bulkier items. Each item should be wrapped carefully to prevent them, especially fragile ones, from contacting each other and causing damage.
You must ensure that items are not moved

.
Moving heavy items can cause damage. For minimal damage, ensure that the items are correctly packed and secured.
Place a piece of scrap cardboard under each final seal to prevent materials from being damaged by cutting with a knife. For extra protection, make sure all corners are sealed with brown tape. It is best to use fabric tape when you have heavy boxes.
 

Copy the Labels with the Correct Address
For easy viewing, please write your address and instructions on separate sheets of paper and then paste them with clear tape.
It would be best to track your package because of the additional risks associated with shipping heavy items. You will have more control over shipping, and your customers can easily find information about the whereabouts of their items. You will appear more transparent and trustworthy, and your buyer journey will be more positive.
It can be challenging to pack heavy items for shipping. Outsourcing your fulfillment can ease the burden. Your logistics partner has professional operation skills and generally uses All-in-One WMS to track the shipping logistics, using the lowest effort to manage your clients, orders, inventories, returns, finance, and integrations. You only need to open the OMS system to check the situation and follow the logistic. You will not need to handle all the details and can concentrate on running your business. Expert fulfillment experts will be able to deliver your heavy items to you in perfect condition and save you money.