As eCommerce sales continue to rise, customer satisfaction and efficiency demand more accuracy, speed, and throughput. Paperwork and spreadsheets are no longer viable solutions to meet these needs. An effective warehouse management system is the answer. This system will optimize business operations and reduce costs, improve inventory tracking, and help get orders delivered faster.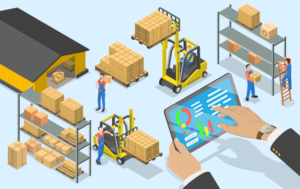 Inventory Traceability and Visibility
Having an automated Warehouse Management System (WMS) can help improve your inventory's visibility, thus reducing the costs, order time and improving customer satisfaction. With a WMS, you can track items moving through the warehouses using barcodes, serial numbers, and lot tracking. So that you can trace and automate the expiration dates of perishables, avoiding losses or a poor customer experience.
In addition, by scheduling regular cycle counts with a WMS, you can balance and check your inventory according to categories, such as low-value or slow-moving products or fast-moving or high-value products. Depending on the warehouse location or staff function, you can assign cycle counts to specific employees. This ensures that the cycle counts will maintain daily business operations, and with an automated WMS, staff can be reminded of the counting day, the frequency, and which products to count.
Inbound Logistics
With a WMS, the inventory-receiving process can be quicker and more accurate. Predefined rules and automation recommend the best putaway rules and bin locations to fulfill orders quickly. Mobile devices can assign serial numbers, inventory status, lot numbers, and bin locations to items as they are being received. This allows the inventory to be quickly allocated to outstanding open orders and taken to the packing location. This efficient process reduces the time and costs associated with putting away and collecting inventories to fill an order.
Mobile App and Scanning
Mobile apps can be a great way to increase the efficiency of your warehouse operations. By utilizing barcode scanning and wireless mobile devices, tasks such as picking, packing, receiving orders, and shipping can be automated. This results in more efficient operations, as the app captures real-time information. With this, you can have an accurate view of your inventory and reduce any potential disruptions and challenges in your supply chain.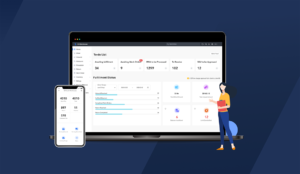 Creating a competitive advantage through warehousing
By partnering with a third-party logistics provider (3PL), the impact of the actual cost of warehousing can be minimized. Through such a partnership, variables such as capital, labor, seasonality, liability, scalability, and strategic offerings can be efficiently managed and addressed.
Minimal, if any, upfront capital is required when outsourcing. 3PLs already have the land, facilities, and technologies in place. This carries an added benefit of a minimal wait time for ramp-up.
Impact on You: A company looking to limit its capital expenditures and deploy cash elsewhere may benefit tremendously.
Hiring, retention, and schedule management are all required for the facility. Management and associates are needed for staffing. 3PLs already have tenured, proven employees to handle this.
Impact on You: The warehousing sector has a turnover rate approximately two times the national average1. This is in part due to the fact that warehousing jobs are closely related to other industries, such as restaurants and construction, leading to high levels of competition for open positions. To attract and retain employees, some warehousing companies offer free college tuition, sign-on bonuses, and recreational incentives such as raffle giveaways as part of their compensation packages. However, they continue to need help in filling positions and reducing turnover.
Inventory levels can vary significantly throughout the year. A 3PL like Wavepoint, which boasts 13 state-of-the-art warehouses, can help maximize them by utilizing predictive analysis, Warehouse Management Systems (WMS), and SKU optimizations.
Impact on You: Seasonal changes can significantly influence stocks, sales, and pricing. Keeping a handle on inventory is a demanding task, let alone managing the area in which it is held. Not having enough space to accommodate market needs can be a tremendous financial burden for a business and lead to a decrease in potential sales and market share.
Outsourcing to a 3PL effectively avoids the sizeable legal liability associated with running a warehouse. Umbrella policies and high General Liability limits are often necessary when operating a warehouse, but these risks can be eliminated with outsourcing.
Impact on You: Warehouse legal liability is a complicated animal4. The best way to shift the risk away from your organization is to outsource to a 3PL. Legal battles that result from your warehousing can impact your company's finances and resources.
A 3PL can provide access to geographic scalability. As businesses grow their geographic market share, the two most significant considerations for businesses are distribution and inventory management. 3PLs provide quick-to-scale distribution and warehousing.
Impact on You: As your company's market share increases, geographic expansion will likely be necessary. If you are a west coast business with customers on the east coast, you must be able to manufacture and deliver your product to this new area quickly. Having advantageous production, inventory, and distribution points will help you fulfill this demand promptly.
Make Inventory Control Your Competitive Advantage With 4 NEW Advanced Tips
In order to optimize inventory management, it is essential to have an organized record system. This can be achieved by setting up a structure to keep track of showroom locations, distribution centers, delivery trucks, and web inventory so that you can monitor where your list is located in the supply chain. Additionally, the inventory quantities and movements should be recorded in a centralized database to reflect the activity that is taking place in the operation. Automating inventory tracking in real-time is highly beneficial, as it saves time, decreases the likelihood of human error, and reduces shrinkage. Furthermore, barcoding can be implemented to streamline the processes further, resulting in less work and better outcomes.
Once you've determined how to classify your merchandise, you can create a detailed inventory hierarchy to maximize opportunities for analyzing product performance. This hierarchy can include Product Category, Group, Collection, Vendor, and Brand. Additionally, it would be best if you consisted of stock items, customizable special orders, floor samples, and as-is merchandise. If you plan to make your products available online, it is best to centrally manage the SKU record details (description, dimensions, and prices) to ensure consistency across all sales platforms.
To ensure that profitability targets are met, it is essential to understand your inventory's performance. Calculate the average landed cost for each SKU and compare it to the selling price. This will provide insight into the overall health of your goods. Additionally, you should apply discounts consistently and only when eligible to maximize profitability. Utilizing software tools can automate the process and ensure discounts are applied during valid promotional time frames.
Accurate product availability is essential to ensuring customer satisfaction. Keeping track of inventory statuses like those on a purchase order, in transit, available to sell, or reserved for an order, can give your RSAs the ability to decide what to sell accurately. Combining this data with the knowledge of vendor lead times enables you to provide customers with an achievable delivery date. Fulfilling their expectations will help you maintain a good reputation and ensure customer satisfaction.