Warehouse Management Systems (WMS) are designed to streamline the more complex warehouse operations, such as receiving and unloading, inspection, inventory control, storage, packing, and shipping and loading. WMS can reduce complexity and optimize performance by integrating different technologies and ensuring the solutions are compatible with existing systems. Additionally, connecting WMS software as a separate module to an Enterprise Resource Planning (ERP) system can provide extra operability to the warehouse, adding new systems transactions that are unavailable in the ERP.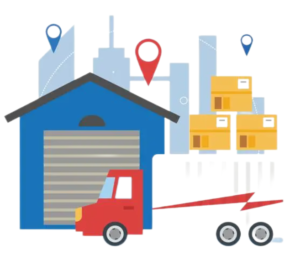 What are the main elements of WMS?
The warehouse management system (WMS) software should encompass the following essential functionalities for efficient warehouse operations:
Flexibility – is needed to meet changing warehousing requirements; software should have built-in functionalities allowing users to implement fast system improvements such as new system transactions, etc. 
Inventory management system – should provide efficient space management, efficient handling of commodities, cost-effective storage solutions that align with inventory requirements, and assist in optimizing the warehouse  layout.
Automatization and mobile access – the WMS software should enable seamless data collection in real-time from mobile devices to ensure comprehensive and timely reporting capabilities. Order picking, shipping confirmation, POD checks, inventory cycle counting, etc., should be performed remotely from mobile devices.
Supply chain support – admin clerk should be able to send EDI to carriers once the warehouse confirms loading. Users should have access to real-time tracking and updates on desktops, providing them with continuous visibility into shipment progress, estimated arrival time (ETA), and delivery status.
Planning, scheduling, and reporting – collecting data from all departments, scheduling personnel, planning daily activities, retrieving data, and providing feed for reports and KPIs with flow charts/diagrams, etc., including providing flow charts, graphs, and other visual representations to assist managers in estimating working hours, cubic meters of shipments, and associated costs for effective business operations.
Maintenance system – clerk should be able to control the equipment life cycle and perform maintenance from mobile devices. This feature gives the ability to keep track of current events and improve forecasting with measured downtime. 
Deep ERP integration – seamless coordination among various operations, including supply chain support, inventory management, planning, scheduling, reporting, mobile operations, and maintenance systems. By integrating these interrelated systems with the ERP, businesses can achieve a centralized overview of their operations, promoting efficient and synchronized processes.
User-friendly interface – clerks should have easy-to-follow access to software from mobile and desktop devices that allow them to perform all operations fast and without confusion. Therefore the application interface should be straightforward to follow with instinctive. 
How to Choose a Warehouse Management System
Are you ready to discover how to choose the optimal warehouse software to enhance your operations? This guide will provide essential information on selecting the right WMS system that maximizes return on investment and drives significant improvements in your business operations. Let's get started!
1. Consider the Timing
Identifying when it's the right time to incorporate WMS solutions into your warehouse is a significant component of success. Suppose you continuously add more warehouse staff to meet customer demands and ensure satisfaction. In that case, it's a sign that it's time to start looking into selecting a warehouse management system.
2. Consider Inventory Control
When selecting a WMS, it's essential to consider products that can assist you in organizing your inventory and keeping it up-to-date in real time. Otherwise, your customer service capabilities could be negatively impacted.
3. Let the Business Lead the Decision
When considering an Enterprise Resource Planning (ERP) system, the IT department can be a great help. However, factoring in the entire business model's party logistics is essential. Many distribution centers make the mistake of allowing IT to lead the decision-making process instead of letting the business take the lead.
4. Understand the Costs
It is wise to consult with a representative of the WMS software manufacturer before getting the system running to determine your needs and budget. Reputable and successful WMS developers can assist in assessing your requirements and financial plan before any purchase.
5. Get Real World Statistics
Ask for specifics when a salesperson tells you that you will save money and see a high return on investment (ROI) with their product. It's one thing for them to make promises and another to provide evidence of how the product has benefited their current clients. Therefore, request concrete details of how their product can help your company.
6. Think about Seasons
If you're in the distribution business and require seasonal order forecasting, you should look for a Warehouse Management System (WMS) that includes this feature. Relying on manual calculations to calculate seasonal orders has the potential to lead to unsatisfied customers. Instead, a WMS system that uses past data can help warehouse managers be confident that they have the right product for the season.
7. Consider Relationship
Establishing a solid relationship with your WMS vendor is critical to successfully implementing the system. Assess your needs, ask the vendor questions, and gauge their level of helpfulness during the selection process. After you have selected the right vendor, you will rely on them for technical support, training, and ongoing support. Make sure that the vendor you choose is always responsive to your needs.
8. Think About Growth
When planning for the future of your business, it is crucial to consider the scalability of your warehouse management system. Ensure that the WMS you choose can quickly adapt to changes and growth in your business. Some plans may not be able to handle expansion, so it is best to ask your vendor about the flexibility of their system. A warehouse management system that can grow with your business is essential for long-term success.
9. Connectivity is Key
Relationships and communication are essential elements of success for distribution centers. Effective warehouse management systems create connections between suppliers, truckers, and customers, enabling continuous feedback and information flow. With these strong ties, businesses can operate in collaboration.
Is It Time to Choose Your Warehouse Management System?
Are you looking to improve customer satisfaction and enhance the growth of your distribution center? ShipOut is here to help. Call us, and let us show you how our warehouse management system can make your job easier. We will discuss your current operations and how we can improve your business model. Let us help you get the most out of your business.