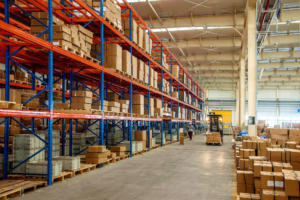 1. Cloud-based operations management
More and more companies choose the software as a service (SaaS) technology model when implementing warehouse management software due to its cloud-based flexibility in organizing logistics operations. This means users can access the app from any computer or terminal with internet access. An added benefit is the lower initial investment since businesses don't have to allocate resources to hardware or equipment maintenance. Furthermore, the SaaS model allows for scalability, with a variable number of licenses that can be increased or decreased depending on market conditions and product seasonality.
Another advantage of cloud-based software is that your company can use its IT team for system maintenance and security. The software provider is in charge of ensuring that the system runs appropriately.
Another advantage of cloud-based software is that your company can use its IT team for system maintenance and security. The software provider is in charge of ensuring that the system runs appropriately.
2. Warehouse automation
The installation of automated systems in logistics is another rising trend. The need for agility and accuracy in picking, storage, and dispatch tasks is driving businesses to install automated systems in their logistics operations. Stacker cranes are one example of such a solution, a piece of handling equipment that can automatically deposit and extract goods from their location. This automation of warehouse product movement is quickly becoming a trend for modern businesses, with various solutions available to meet any requirement. The possibilities are endless, from conveyors that link different warehouse zones to autonomous robots that apply AI to navigate and transport goods.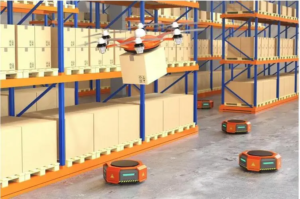 3. Technology for omnichannel logistics
To provide a satisfactory shopping experience, companies must control their logistics facility inventory in real-time due to the increased number of sales channels, especially their integration, which makes storage and picking operations more complex.
Omnichannel logistics requires complete product traceability: the logistics manager must know the status of every item stored and every pending order. Businesses often automate inventory management with a warehouse management system (WMS) to maximize throughput in an omnichannel facility. This program coordinates all processes in the facility and eliminates the risk of error due to manual goods management.
By pairing WMS software with a Distributed Order Management (DOM) system, companies can utilize data analytics and AI to synchronize their physical stores, e-commerce platforms, marketplaces, and other online shopping apps.
4. Simulation to anticipate needs
Digital twin technology, which consists of virtual replicas of objects or processes to simulate the behavior of their natural counterparts, allows customers to visualize how their logistics operations would function. Thanks to the 3D representation of the storage systems and product flows, customers can simulate the layout of their facility and operator and goods flows. Moreover, once the system is implemented, warehouse simulation can help identify inefficiencies, risk scenarios, and improvement opportunities, thus facilitating strategic decision-making.
With digital twins, businesses can recreate test scenarios to make new configurations or changes in logistics planning. Using this technology, you can introduce, for instance, new picking methods or predict how your warehouse would perform if other storage systems were installed.
5. Logistics decisions based on big data
By structuring the vast amounts of data generated by warehousing technologies, valuable information can be obtained to enhance decision-making. In the realm of logistics, big data can be utilized to develop strategies that are based on the efficiency of the facility.
Programs that are the most advanced can gather and examine various data sources, such as consumer demand, the activity of the transportation fleet during order shipping, and goods flow, to identify chances for improvement within the facility.
6. Predictive and prescriptive analytics.
When sellers support online orders, peak season is one of the biggest challenges they face. However, AI and machine learning algorithms simplify coping with the increase in demand and the need for extra labor. These algorithms create a prescriptive analysis based on data from earlier events and user activity. This intelligence can also assist the seller in detecting items with high demand or regions with solid sales. Additionally, it can place these items near the loading dock and serve as the foundation for automated replenishment.
7. Gamification in the warehouse. 
One of the primary issues for distribution facilities today is how to engage the workforce; if they are content, they can provide better customer service. A powerful way to motivate them is to use gamification, which includes elements like leaderboards, reward systems, individual/team recognition, and employee feedback. These components are part of today's WMS, essential to modernizing and optimizing retail supply chains.